Two Wheels Motorcycle Tours

Two Wheels Motorcycle Tours is a locally owned and operated Brisbane based business who specialise in small group guided and self-guided motorcycle tours plus itineraries. Our tours will take you on the best motorcycling roads Australia has to offer, not the boring straight highways like the big tour brands do. We tour asphalt roads not dirt roads. We also offer an itinerary only option for those who would like to explore but are not sure of the route.
At TWMT we are passionate about motorcycle touring. We live and breathe motorcycles. Our experienced guides have a wealth of local knowledge and a long history in not just motorcycling, but motorcycle touring and extensive customer service experience also. Enjoy the company of like minded people, with the knowledge that you will be catered for by professional, experienced, friendly and fun tour guides. We have both male and female tour guides to cater for all riders. 
 Bring your own motorcycle or we can arrange motorcycle hire for you (at an additional cost). All types of motorcycles welcome.
We offer weekend tours, long weekend tours, week long tours,  or let us custom make a tour just for you. We are the itinerary experts, so anything is possible just ask us. 
All our tours are designed for a mix of riding and sight seeing with carefully selected locations offering the best photo opportunities along with scheduled stops at selected cafes, hotels and stores for refreshments and comfort stops. You will meet like-minded people from the world over. 
Our tours depart from either Brisbane or Sydney – your choice. 
If you would like to ride The Great Ocean Road; walk out to Pulpit Rock or The Three Sisters  in The Blue Mountains; visit the Byron Bay lighthouse; horse ride to Craigs Hut or visit the National Motorcycle Museum in Nabiac, let us know and we can arrange anything along the way that you wish to see or do.
Ride the best roads that Australia has to offer – the Summerland Way, Waterfall Way, The Putty Road, Bylong Valley Way, The Oxley Highway. We can take you to the Alpine Way through the  Australian Snowy Mountains, along the Great Alpine  Road through the Victorian snowfields or even down to The Great Ocean Road. 
Your dreams are our dreams too. 
Our goal is to provide an experience for you that will be remembered for many years. It is the little extras that make the big difference to your trip, and with our guides knowing the roads and area you are travelling through, makes for a fun, interesting and scenic tour.
It is not the destination, but the journey that is important.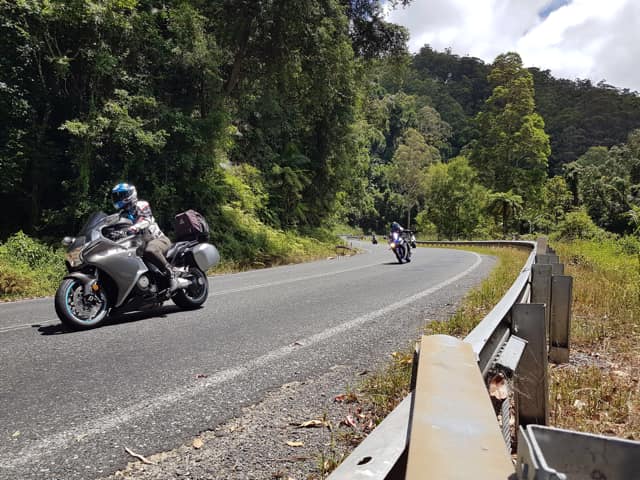 Australia is a truly amazing place to ride a motorcycle and until you have toured our vast land on two wheels (or three), you don't know what you are missing.
It is the thrill of the open road; leaving the hustle and bustle of the city behind; the fresh air in your lungs; seeing nothing but mountains on the horizon and enjoying your passion with like-minded new found friends.
We have been fortunate to experience the magnificence of touring our country on motorcycles and would love to share this with you.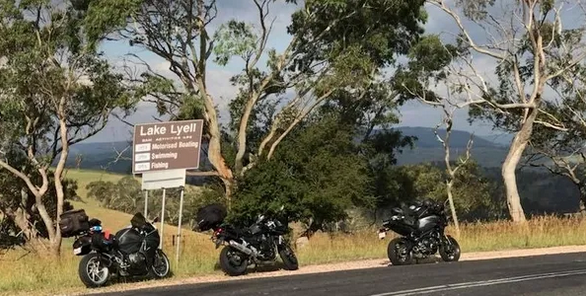 GUIDED TOURS
We do all the planning for you. You just arrive at our meet point and enjoy the ride.
We organise your itinerary, accommodation, breakfasts and dinners (including dessert). Most tours also include fuel -please check your required tour. Ride your own motorcycle or we can arrange motorcycle hire for you.
Our guided motorcycle tours combine Australia's best motorcycling roads, scenic destinations, local attractions and country accommodation. With our guided motorcycle tours we bring you the absolute best of the area you are travelling in. We cover some fantastic destinations and your itinerary is planned to maximise all opportunities available on your journey. 
Our shorter guided tours will have longer travel days to and from our designated destination, with shorter days once we arrive.
Our longer guided tours have travel days averaging 350 kms per day to allow ample time to visit attractions, sight see, stop for photo opportunities and have a relaxing ride.
Included in your guided tour price is:
*a lead motorcycle guide with CPR and first aid certificate and breakdown kit
* country style accommodation with your own room with breakfast supplied daily (please check your tour for other meal inclusions)
* cost of selected tourist attractions and day trips
*a booty bag containing – bag, T shirt, cap, stubby cooler, note book, pen + more.
Female  and male tour guides are available for our Guided Tour adventures. Please contact us for any queries.
If you are part of a motorcycle group and would like us to assist you with a guided tour, please let us know. This takes the stress off you and leaves you to enjoy the tour alongside your riding friends.
If you would like to adjust any part of any guided tour, please contact us.
Anything is possible!
SELF GUIDED TOURS
Our self guided motorcycle tours are your way to design a motorcycling  tour to include all that you desire. We are able to customise all aspects of the tour to be flexible without compromising the customer service, quality and the cost.
Again, if you are part of a motorcycle group and you don't want the stress of organising a self-guided tour we will be more than happy to work with you on organising a tour with your riding buddies. We will organise the route, accommodation and  meals, which will leave you enjoying your time on your bike without the headache. 
You are able to:
*design your own motorcycle tour to include any options specific to your needs and wants. This includes options for route, accommodation , meals, tourist attractions, natural attractions. 
*modify any existing tour to your needs.
*choose any existing guided tour and do as a self-guided tour. 
Please call us or complete an online enquiry form and tell us how you would like your tour customised to your needs. 
Let us know where you would like to ride, who is coming along and the dates that you have in mind for your trip. Include any "must see" sights or destinations that you are keen to visit and we will get to work on an itinerary that will be sure to suit your needs.
Self guided tours of Tasmania are now available – you ride, we organise. 
Available to depart from anywhere in Australia, or just tour Tasmania itself.
ITINERARIES
This has become a popular choice for riders who would like to explore, but are not sure of the roads to travel and what to see along the way. Our international travellers find this a great way to see our country. 
Tell us where you would like to go, how long you have to get there and what you would like to see along the way, and our itinerary specialist will put together a route for you. You choose your accommodation, meals and fuel stops.
Our itineraries also include accommodation choices, tips on the best places to eat, best places to stop and look at the view, attractions in the area, recommended fuel stops, and information and history on the towns you travel through. 
You will be supplied a hard copy of the itinerary which will include brochures and information relevant to your tour; soft copy of itinerary; daily maps sent to your phone; and phone access to our tour guides for any queries along the way.
Itineraries of Tasmania now available. So much to see and so many great roads to ride. 
What are you waiting for?